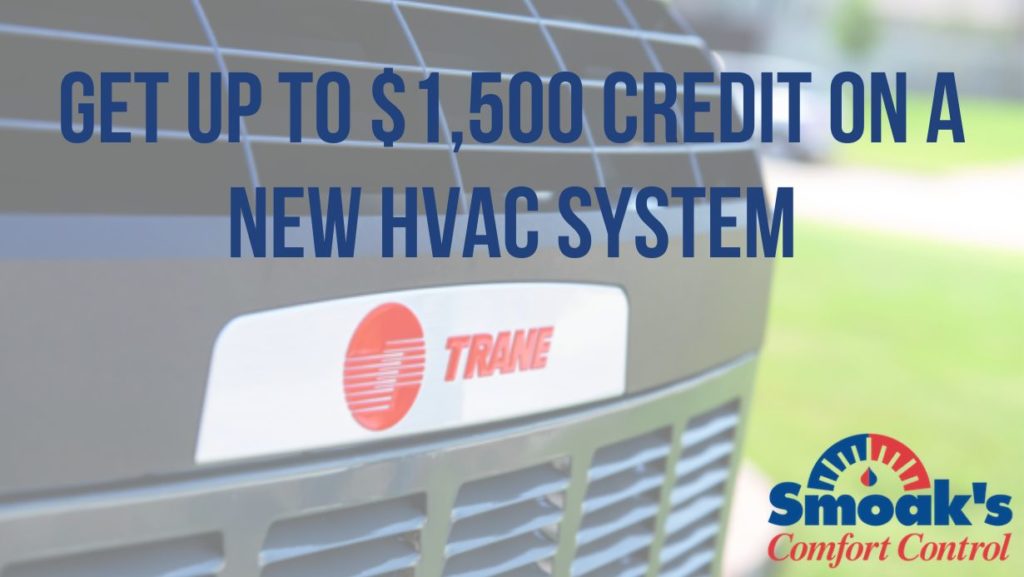 Smoak's Comfort Control is now offering up to a $1,500 Credit
Do you wish you could turn all those heating and air conditioning repairs into a new system? For a limited time, Smoak's Comfort Control will credit you up to $1,500 when we install a new HVAC system for your home.
Does your existing air conditioning system constantly need repairs, and you're tired of wasting money on a system that's down more often than it's up? If you're a homeowner in Charleston, you know that a reliable HVAC system is essential to our overall comfort, health, and happiness. You deserve to have a reliable and efficient heating and air conditioning system.
Guidelines
You must be a homeowner in Smoak's Comfort Control service area.
You must have a written receipt from a licensed South Carolina Heating and A/C contractor for ALL the Heating and A/C repairs made on this specific system, and this can include all repairs made since January 1, 2023.
The maximum credit is in accordance to the chart below.
The credit is applied at the Point of Sale and will be deducted from Smoak's Retail Sales Price.
Details: This starts September 1, 2023, and will end on December 31, 2023, but can end anytime without notice.
Interested in learning more about our financing options? Give us a call at (843) 556-9550 or contact us online today!
Maximum Credit Given to Type System Purchased
Type System Purchased
Trane Variable Speed Compressor
Trane 2 Stage Compressor
Trane 1 Stage Compressor
Goodman System
Mitsubishi System
Maximum Refund Allowed
$1,500
$1,000
$750
$500
$500
Dedicated to Your Comfort, Safety, & Satisfaction
At Smoak's, we make sure that we stick to our core values which we were founded on, including:

Honesty
Doing transparent and honest service is what we are all about. We always promise to tell you the truth and maintain the highest quality of service every second we're on the job.

Customer Service
In everything we do, we always make sure that we are focused on the customer first.

Upholding Expert Standards
Since our family has been doing this for multiple generations now, it is vital to ensure that this is apparent in everything we do regarding our knowledge and skill in HVAC and plumbing at your location.

Local Pride
We're proud of the fact that our business is a local family-owned and operated business, and we want that pride to show as we use our familiarity with the area, businesses, and the people who live, work, and play here to make sure we're always meeting our client's needs.
Want to Know What Your Friends and Neighbors Think About Us?
"We had Logan from Smoak's service our a/c unit and he was extremely professional and knowledgeable. We have been with Smoak's for almost 20 years and will continue to do so. We have recommended them to family and they are as satisfied as we are. Would recommend them to anyone looking for an honest ac heating company."
"Smoak's is our "go-to" for AC systems and service. They have a great business team. From call-in and prompt scheduling to knowledgable, professional technicians, and very fair pricing they do things right. It feels like calling a friendly neighbor for help.
AC is one of those things that when everything is operating normal, you don't even notice it's there. But if it needs repair, we need help fast. Smoak's always responds.
We have and older home with a couple of Smoak's-installed systems. It's great to have the combination of Charleston charm and modern systems. Thanks Smoak's!"
"We have used Smoak's for more than 10 years for service and have been satisfied with them. Last week our A/C system needed replacement and we chose Smoaks for purchase and installation which was a 5 star event!"