Reliable Heating Repairs in Charleston, SC
When temperatures drop, every home and business turns on the heater to keep your people warm and safe. So, if there's an issue with your heater or furnace, you don't have much time to book a heating repair to get your heater back up and running. At Smoak's Comfort Control, our team prioritizes your health, safety, and comfort for all Charleston residents with fast, dependable, and professional heating repair services.
No matter the issue, you won't have to wait long for a solution. Our technicians have the expertise to get your home or business warm and comfortable again in no time.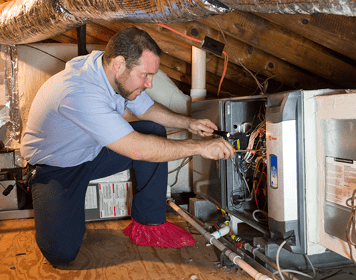 Signs Your Heater or Furnace Needs Repairs
Heaters can fail in a fast or slow way. If your heater suddenly cannot keep up with the cold, you will want to call for heating repairs in a hurry. Our team of heating professionals will ensure your comfort, safety, and satisfaction. Poor heating isn't the only sign that your heater needs repairs.
Here are a few signs indicating your home or business needs heating repairs, even if you are getting warm air, and understanding what you are seeing and why can help you decide when to call for heating repairs.
Grinding, scraping, or banging noises: This may be due to a broken fan or other internal components.
The smell of mold: Mold in the HVAC must be cleaned, or it can cause a health hazard.
The smell of burning: A minute or two of "hot dust" is normal. We recommend turning off the heater and calling for repairs if you smell burning metal or plastic.
The heater turns off and on: Power cycling can be an issue with the thermostat or the wiring.
Heater won't turn on: If the heater won't turn on after a cool-down, it's likely the wiring, and you will need a professional.
Vents blowing cold to room temperature air: Your heating coil/furnace is not turning on, but the blower fans are running.
Signs Your Heater is Working Inefficiently
Heating repairs can also help if your heater is working but needs to be more efficient. An inefficient heater will use much more electricity while often failing to keep up with your temperature needs.
Some home and business owners prefer to try do-it-yourself methods before scheduling a heating repair. We get it – you want to save money. The problem is that putting off a much-needed heating repair can lead to more expensive problems down the road. Furnace repair can seem inconvenient, but Smoak's professionals make it as simple as possible.
Here's how you can know if it's time to bite the bullet and call to schedule a heating repair:
You find yourself continually cranking up the thermostat. If you are tinkering with the thermostat because it seems cooler in your home or business, it's likely time for furnace repair. A timely furnace repair will get things running optimally and avoid a complete furnace failure at the most inconvenient time. Often, a furnace needing repair will slowly become less efficient before failing altogether.
Your energy bills make you gasp (or cry). While we all feel the pain of increased energy bills during the colder months, outrageously high electric bills that bring tears to your eyes may very well be a result of a furnace issue. If you have an older furnace model, it will probably be less efficient. As the temperatures drop, it must work harder, so your energy costs go up. Professional heating repair will get your system back to working as efficiently as possible, bringing down those energy bills.
Emergency Heating Repair in Charleston, SC
Did your heater stop working in the middle of a winter freeze, on a cold spring morning, or during a cold snap? Charleston can get chilly in the winter, so your family may be at risk of dangerous temperatures, especially for those with certain medical conditions, the elderly, and young children.
We understand that you can't live without heat, and there's no time to delay. Therefore, Smoak's Comfort Control provides emergency heating repairs to homes and businesses in Charleston and the surrounding areas. You can contact us any time for emergency furnace repairs seven days a week, 365 days a year. We will dispatch a professional service technician to your location to get your heating system working again as soon as feasibly possible.
Things to Do Before Calling for Furnace Repair
Heating systems are like any other machine and eventually suffer from the occasional breakdown. While it requires a highly trained technician to service the unit, there are a few things you can do to get your heat back on and running before you call.
Your comfort and safety are vital, so let us share a few DIY tips that might get your heat on quicker.
Check the Thermostat for Batteries
Some thermostats are wired-in, and some have batteries on the back. See if your thermostat pulls off the wall and whether the batteries need to be replaced.
Change Your Air Filters and Clean the Vent Register
Another tip is to change your air filter. Clogged air filters and vent registers can overload a system, causing blower fans to overwork. You're in luck if your heater starts back up after a clean filter is installed.
Check the Pilot Light on Your Furnace
If you have a furnace, check the pilot light. If the light goes out, it could release natural gas into your home. If the pilot light is out, let your technician know when they arrive. For safety reasons, we recommend having a professional re-light your pilot light and inspect it for flaws simultaneously.
Check if You Have a Tripped Breaker
Check your breaker box. If you have a breaker that has tripped or is in the center position, reset it by flipping it "off" and then "on." Then check to see if your heater turns back on.
Turn the Heater Off for 15 Minutes
Let your heater cool down. If the internal components have overheated, turn off the heater for 15-30 minutes, then try again. If your heater stops frequently and power cycles, call for furnace repairs as you have a more severe issue.
Heating and Furnace Maintenance
In addition to heater repairs and replacements, Smoak's Comfort Control proudly offers routine heating system maintenance and inspection services. Whether you have a fan that is wearing out or vents that need cleaning, you can address these matters before your heater goes out in the middle of a South Carolina cold snap. Regular maintenance can help prevent heating emergencies and allow you to schedule upcoming repairs.
If you think your heater might be struggling or underperforming, Smoak's team will send a technician to your location to help you get back to comfort sooner rather than later when significant problems occur.
Professional Heating Repair Services
 Smoak's Comfort Control specializes in furnace and heating repairs and is dedicated to delivering high-quality services and customer experiences to keeping your home and business safe and comfortable. We understand furnace repair is not likely an expense you expect, which is why we strive to make our service calls count. We aim to take care of any heating problems as soon as feasibly possible to help save you on energy costs and repairs in the coming weeks and months.
If you need a heating or furnace repair, contact Smoak's Comfort Control experts at (843) 556-9550 or contact us online via our easy, service request form.