While heating and furnace repair may not be at the forefront of your mind today, it will be all you can think about on the coldest winter night. Taking a proactive approach to furnace repair now will ensure your home stays comfortable when it counts. It may also prevent a small heating issue from becoming a major repair expense.
Smoak's Comfort Control specializes in furnace and heating repairs and is dedicated to delivering affordable service to keep your home or business safe and comfortable. We understand furnace repair is not likely an expense you are expecting, which is why we strive to make our repair calls count. We aim to take care of any heating problems immediately in order to help save you on energy costs and repairs in the weeks and months to come.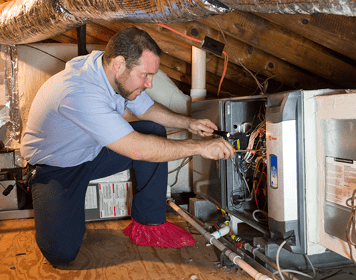 How Do You Know if You Need Heating Repair?
Some home and business owners prefer to try do it yourself methods before scheduling heating repair. We get it – you want to save money. The problem is that putting off a much needed heating repair can lead to more expensive problems down the road. Furnace repair can seem like an inconvenience, but the professionals at Smoak's make it as simple as possible.
Here's how you can know if it's time to bite the bullet and call to schedule heating repair:
You find yourself continually cranking up the thermostat. If you are tinkering with the thermostat because it seems cooler and cooler in your home or business, it's likely time for furnace repair. Often, a furnace in need of repair will slowly become less efficient before failing altogether. In order to avoid a complete furnace failure at the most inconvenient time, a timely furnace repair will get things running optimally.
Your energy bills make you gasp (or cry). While we all feel the pain of increased energy bills during the colder months, outrageously high electric bills that bring tears to your eyes may very well be a result of a furnace issue. If you have an older furnace model, it will probably be less efficient. As the temperatures get colder, it has to work harder, which means your energy costs go up. Professional heating repair will get your system back to working as efficiently as possible, bringing those energy bills back down.
​If you think you may need a heating or furnace repair, contact the pros at Smoak's Comfort Control today at 843-556-9550 or place a services request below.