Trusted Heating Contractor in Charleston, SC
For most of us, the machines we use every day slip our minds until something goes wrong. Unfortunately, these malfunctions never occur at convenient times. We often take for granted the maintenance and upkeep needed for the average HVAC system. That is until they stop working due to a lack of upkeep. One of the worst home experiences is being caught off guard by a malfunctioning heating system. While your heating system may still need to complete, failing to maintain it can lead to decreased heating performance and an increase in poor indoor air quality.
If you want to stay warm and comfortable, heating system tune-ups are necessary. If you've been curious about heating maintenance and what goes into a maintenance visit, we're here to help. It's essential to ensure preventative heating maintenance. A well-maintained heating system will improve your home's energy efficiency and save you money on your energy bills.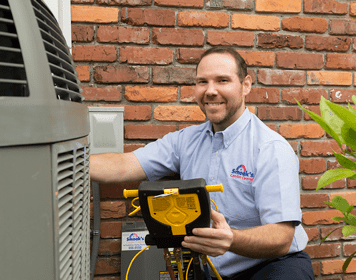 Why is Heating Maintenance Important?
The first thing to tackle is simple – why does it even matter? Many heaters are durable and can last for quite some time. Although every machine needs regular routine maintenance. Even the sturdiest heating system or furnace will need occasional maintenance. This is vital not only to stop it from breaking but also to prevent hazards. Heaters can experience several failures that end in fire risk. This can cause injury, death, or simple discomfort.
An unkept system will not last as long as a well-maintained system. It also may not heat the property as well as efficient as it should. This can be costly and uncomfortable. This will result in it becoming a useless heater.
Other issues may include unpleasant smells coming from the system. It could be a gaseous smell or the smell of something burning. Stale air that isn't moving through the system as well as it should, will also cause issues.
In short, heating maintenance keeps your furnace working. If you fail to get a proper heater tune-up, you will likely end up with a broken or useless system. Proper maintenance can help prevent your heater from breaking down when you need it the most.
Benefits of Heating Maintenance
Of course, there are many benefits to proper maintenance than avoiding the negatives. There are many benefits to having a well-maintained heating system.
The biggest advantage is that it will last longer than a taken care of heating system that hasn't had regular routine maintenance. A system with cleaned coils, vents, and filters will operate much better as well.
This allows it to move warm air through the property without being blocked by lint, dust, or other obstacles in the filters and intakes. It also lets the system warm the home more thoroughly and quickly, as more air can get through. When the weather suddenly becomes much colder without warning, this is a more than welcome benefit.
Another crucial point is that maintenance can help bring incoming issues to your attention. If you have your system inspected, issues like small cracks or wearing belts are spotted sooner. Without these being fixed, they will eventually progress to much more significant issues.
Heating maintenance can keep your home warm and your energy costs down. A well-maintained system is more efficient and won't have to run for as long to distribute as much air. It's a great benefit that keeps you comfortable and your costs down.
Steps to Heating Maintenance
Now that we know the benefits of heating maintenance, what goes into a basic heating tune-up? Here are some of things you can expect a Smoak's technician to do during a routine inspection.
Inspecting vent system and air intakes, removing blockages, and clearing buildup
Inspecting all filters and cleaning or replacing as necessary
Inspecting and cleaning the blower and clearing away any debris
Checking blower motors and ensuring its functioning properly
Examining all electrical connections and tightening or replacing them as needed
Checking burners and flame sensors for safety, especially in older systems
Examining belts and vents for signs of damage or cracking
Inspecting and ensuring accuracy from the thermostat
Make sure everything is properly lubricated for moving parts
Testing all safety controls and system startup
For units that use oil or gas, there are a few extra steps. Fuel lines face a much deeper inspection as cracking or leaking is much more dangerous with gas. Burners, pilot lights, gas pressure, and the thermocouple all also need inspecting.
It sounds like a lot, but many of these boxes are checked off simultaneously. Checking air filters and intakes, for example, is usually a relatively easy task as well.
While many of these tasks are ones you should save for a professional HVAC technician there's plenty you can do yourself! Most filters are easily accessible and cleaned. Make sure the air vents in your home are properly cleaned and cleared of any debris. This is especially the case in the colder season.
When to Maintain Your Heating System
Maintenance is a year-round job. You should do your best to always keep your vents clean. If you can easily access them, clean off filters and intakes regularly. This will help limit the dust that gets into your system. Not only does this help keep the system cleaner, but it also stops the system from blowing dust around your home.
That said, there are a few tips on when maintenance is essential. At the very least, you should have your HVAC system serviced at least once a year. This will help to keep your indoor air quality optimal and head off any problems that may grow during the year.
You can make this more frequent if you'd like. For example, quality air is more important if someone in your home lives with respiratory issues or a weak immune system. In this case, having an inspection two or even three times a year is recommended.
You should make sure that maintenance is completed before the cold season arrives. Once the temperatures drop, your system will have much more strain placed on it. This can exacerbate any issues that may have been occurring, so make sure to maintain it properly beforehand.
Furnace maintenance is a comprehensive, in-depth inspection of your entire heating system. This process should be performed at least twice a year. Its primary purpose is to identify potential issues early on, keep your system operating smoothly and prevent costly repairs. Think of it like your annual doctor's check-up for your furnace.
During the maintenance process, a professional HVAC technician will inspect and perform maintenance tasks on your heating system to ensure it's working at peak performance. This usually involves a thorough examination of your furnace.
A furnace tune-up is a one-time check-up of your furnace. It's an essential process as it helps to ascertain that the safety controls are in place and that everything is working correctly.
Common Heating System Problems and Solutions
As a homeowner, it's crucial to know what problems your heater can experience and how to solve them. Some of the most common issues that Smoak's technicians have come across include the following:
Lack of hot air: If you're experiencing a lack of hot air, it could be due to a clogged air filter. Replacing the filter should fix the problem.
Thermostat issues: Malfunctioning thermostats can cause your heater to turn on and off at random times.
Pilot light problems: If the pilot light on your furnace won't stay lit, it could be due to a clogged gas valve or a faulty thermocouple.
Ignition issues: If your furnace doesn't turn on, it could be an ignition problem. A professional should inspect the problem and repair/replace the ignition as necessary.
Noisy operation: If your heater is making loud noises, it could be due to a problem with the blower. It could also be a sign of a loose part. A professional should inspect the issue and repair/replace the faulty parts.
Uneven heating: Uneven heating can be due to damaged ductwork. Fixing the ducts should resolve the issue.
Importance of Hiring a Professional Heating Technician
Hiring a professional HVAC technician is crucial for ensuring the longevity and efficiency of your heating system. It's always a good idea to work with someone licensed and professional. These individuals have the expertise and experience necessary to diagnose and solve problems you may not be able to detect or fix on your own.
Professional technicians also have access to specialized tools and equipment, which helps them comprehensively inspect your furnace. As well as providing a warranty for their work, giving you peace of mind and protection in case any future issues arise.
Why Trust Smoak's Comfort Control?
We have decades of combined experience and expertise in heating maintenance, repair, and replacement at Smoak's Comfort Control. We have seen it over the 50+ years we have served homes and businesses. Over this time, there's been no heating issue we have not been able to solve. That's why we are the best in business throughout the Charleston area.
When you work with us for routine heating maintenance, this is what we bring to the table:
Expertise and Expertise: Our team consists of highly trained, certified HVAC technicians with years of experience in the industry. We also take pride in our deep understanding of different furnaces and heating systems, which ensures that our tune-ups and maintenance are thorough and effective.
Quality Services: Our focus is on providing high-quality services and exceptional customer experiences. We only use the best products, materials, and parts to ensure your heating system's longevity.
Customer Satisfaction Guarantee: Our customer's complete satisfaction is our top priority. We don't mislead our customers. We offer quality value at competitive prices. Read what some happy customers have said about our people, work, and services.
Competitive Pricing: At Smoak's Comfort Control, everyone should have access to high-quality heating services. We have partnered with Wells Fargo Bank, N.A., and GreenSky to provide financing options to all our customers.
Wide Range of Services: We offer an array of furnace and heater tune-up and maintenance services for a wide range of heating systems. Our services can keep your heating system running smoothly and efficiently all year long.
Fast and Dependable Service: Our team provides fast and trusted services to minimize disruptions to your daily routine. We also offer emergency heating repairs and strive to complete our tune-ups and maintenance promptly so that you can get back to comfort as soon as possible. We are here to help you whenever you need us, seven days a week, 365 days a year.
Trusted by the Local Community: We have continued to build on our reputation as a trusted and reliable HVAC company in the Charleston, SC community. When you work with us, you can rest assured that we will take care of you, your system, and your property as a good neighbor should. We want to continue making the area a beautiful and comfortable place to live, learn, work, and play.
Long-Term Solutions: We aim to provide long-term solutions, not just quick fixes. That's why we take pride in our work, take the time to understand your heating system and comfort goals and provide personalized solutions to ensure its longevity.
Your Trusted Charleston Heating Contractor
Ensure that your heating systems are being maintained to keep your home or business comfortable, safe, and productive all year long. Please don't wait until it's too late to schedule your heating maintenance visit. Invest in a maintenance plan for your heating system, and enjoy a warm, safe, and comfortable home. Contact us today by calling us at (843) 556-9550 or contact us online to schedule an appointment with one of our friendly and professional HVAC technicians.