HVAC Maintenance in Charleston, SC
Because your HVAC system has a critical role in your home, it makes sense to take care of your heating and cooling units. Every year, all year long, your HVAC system takes care of your home or business. It generates heat when it's cold outside, creates cold when it's hot outside, and keeps fresh air cycling throughout the air filter, ensuring a healthy environment year-round.
That is why HVAC maintenance is so essential. Maintenance can ensure that your heating and cooling are there when you need them most, your system is running efficiently, your air is clean, and any potential problems are spotted well in advance. Routine HVAC maintenance is performed once in the fall and once in the spring.
Smoak's Comfort Control proudly offers residential and commercial HVAC maintenance services throughout Charleston, SC, and the surrounding areas.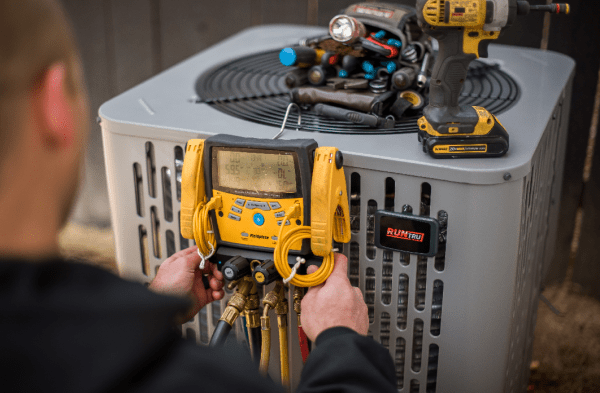 What is Done During a Performance Maintenance Visit?
HVAC preventative maintenance involves cleaning, inspecting, calibrating, lubricating, and minor repairs. When we send a highly skilled HVAC technician to your property, they will perform a full maintenance check to ensure your HVAC is in good operating condition.
First, they will look at your HVAC units, including the AC unit, the heating unit, and any additional components.
Second, we will clean each unit's interior, exterior, and coils to remove any dust and debris that may have accumulated and reveal more details.
Third, we will conduct a full inspection of your HVAC units to identify any parts worn out or prone to malfunctioning soon
Fourth, we will inspect your vents and ductwork for efficient, gap-free airflow.
Fifth, we will examine any small, worn-out components, adjusting settings, tightening bolts, etc., so that your HVAC will work at peak performance – clean and well-maintained when the service is completed.
This process is followed whether you schedule routine HVAC maintenance or call for a one-time HVAC tune-up. At Smoak's Comfort Control, we are proud to keep every resident in Charleston, SC, comfortable, safe, and productive with high-efficiency and high-quality HVAC performance.
Benefits of HVAC Maintenance & Tune-Ups
An HVAC tune-up or preventative maintenance visit has some significant benefits.
Guaranteed Seasonal Performance: When you are scheduling routine HVAC maintenance, you ensure that your home or business will be safe with a well-powered system during the hottest summer days and the coldest days of winter.
Maintain HVAC Energy Efficiency (Lower Power Bills): A well-maintained HVAC system is also more energy efficient. No matter the age of your system cleaned coils, and clean air filters reduce resistance in your airflow, which means less power is needed to heat, cool, and cycle air through your property. Commercial HVAC can also save a bundle on regularly scheduled HVAC maintenance visits, cleanings, and inspections.
Ensure Clean Air for Your People: HVAC maintenance also includes regularly cleaning the inside of your system. This ensures you are breathing clean, healthy, primarily dust-free air.
Catch and Fix Issues Early: Lastly, HVAC maintenance or a one time tune-up can help catch wear-and-tear issues inside your HVAC system early and repair them before the issue becomes a problem that cuts off your heat or cold when you need it most.
When to Schedule HVAC Maintenance for Your Home or Business
When is the best time to schedule an HVAC tune-up? When is it essential to call for an HVAC maintenance check? At Smoak's Comfort Control, we can advise a few situations where either routine or on-call HVAC maintenance is the best way to keep your power bills low and your home air quality high.
Spring & Fall Maintenance: Maintenance should happen twice annually. You can schedule your maintenance visits far in advance or book HVAC maintenance in Charleston at any time that works for you. We recommend booking at the best times, once in the fall and once in the spring. Transition seasons are best for HVAC maintenance because they are when your house switches from heat to cold or back again. A Smoak's technician can help clean and put away your heat in the spring, prepare your AC for good performance, and do the opposite in the fall so that your people are cozy all year with minimal worry that your HVAC will give out at a critical moment.
When You Sense Trouble: If your HVAC is making strange noises, short cycling irregularly, or showing other signs of poor performance, call for a tune-up or service call. We'll clean the system and give it a full inspection, then advise you if a repair or replacement is in your future. Of course, HVAC maintenance or an HVAC tune-up can help if you sense something is wrong with your system.
When Your Power Bill Rises: If your power bill increases more than usual when you crank up the winter heater or summer AC, call for an HVAC tune-up. A little TLC can go a long way to keeping your system efficient and effective.
If Your Air is Dusty, Smelly, or "Allergic": Lastly, your HVAC is likely the culprit if you notice a great deal of dust, a musty smell, or unusual active indoor allergies. Calling for an HVAC tune-up can assist with keeping your property's air clean and free of unwanted dust, mold, or other allergens.
Don't Hesitate to Call a Professional
Routine HVAC preventative maintenance and tune-up services are essential to keeping your home or business's HVAC system running reliably. If it's been a while since your last HVAC maintenance visit, or you notice signs that something is going on with your system, contact Smoak's Comfort Control today! Our HVAC professionals are prepared to provide fast, reliable, and friendly HVAC maintenance services year-round, whether you need to book routine preventative maintenance or keep our number for the next time you suspect your system needs a tune-up.
Call us today at (843) 556-9550 or contact us online to learn more or to schedule a HVAC maintenance visit.