Air conditioning units are measured in multiple ways, including via the BTU (British Thermal Unit), however, amps and wattages, and other details available on the sticker. But when it comes to efficiency, the systems are measured by the universal standard SEER. Recently, the DOE or (Department of Energy) came up with new SEER2 requirements that came into effect on January 1, 2023. Every Charleston homeowner and business owner must familiarize themselves with these regulations to avoid the implications of non-compliance.
In this guide, we'll explore the new requirements, the affected products, how the rules affect your decision to purchase HVAC equipment, and how to always stay on the right side of the law.
What is SEER2? – A Quick Overview
HVAC equipment, from condensers to gas furnaces to AC units, is rated for efficiency based on the Seasonal Energy Efficiency Ratio (SEER) ratings. SEER2 refers to Seasonal Energy Efficiency Ratio 2, the amount of heat the conditioned space emits during the cooling season.
You can compare it to your vehicle's fuel efficiency, although in this case, you'll be referring to the comfort you can get for every dollar you spend on energy, not the distance each gallon covers. Like the miles per gallon rating, you'll strive for a higher number. A higher SEER rating means a smaller carbon footprint with your conditioning equipment and energy bill savings.
The new SEER2 guidelines cover the following products:
• AC Condensing Units – This is a split HVAC system's outdoor component, usually paired with an air handler and coil, to form a split AC unit.
• Heat Pumps – They tap into the indoor-outdoor temperature difference to regulate temperatures within the home.
• Evaporator Coil – The heat pump or AC component that absorbs heat, often beside the air handler.
• Single Packaged Units – This comprises all central air conditioning unit components outside the home.
• Gas Furnaces – SEER regulations also cover these vital heating components.
The SEER2 standards affect your choice of home equipment. In the next sections, you'll learn about the changes that have taken place and how the regulations come into play when you're planning to upgrade the components of your residential or commercial HVAC system.
How is SEER2 Different?
The first SEER standards came into place in 1975, but until 1987, there were no regulations defining the minimum SEER ratings for HVAC and air conditioning equipment. The requirements vary across the country with three different geographically based regional conditions:
North
Southwest
Southeast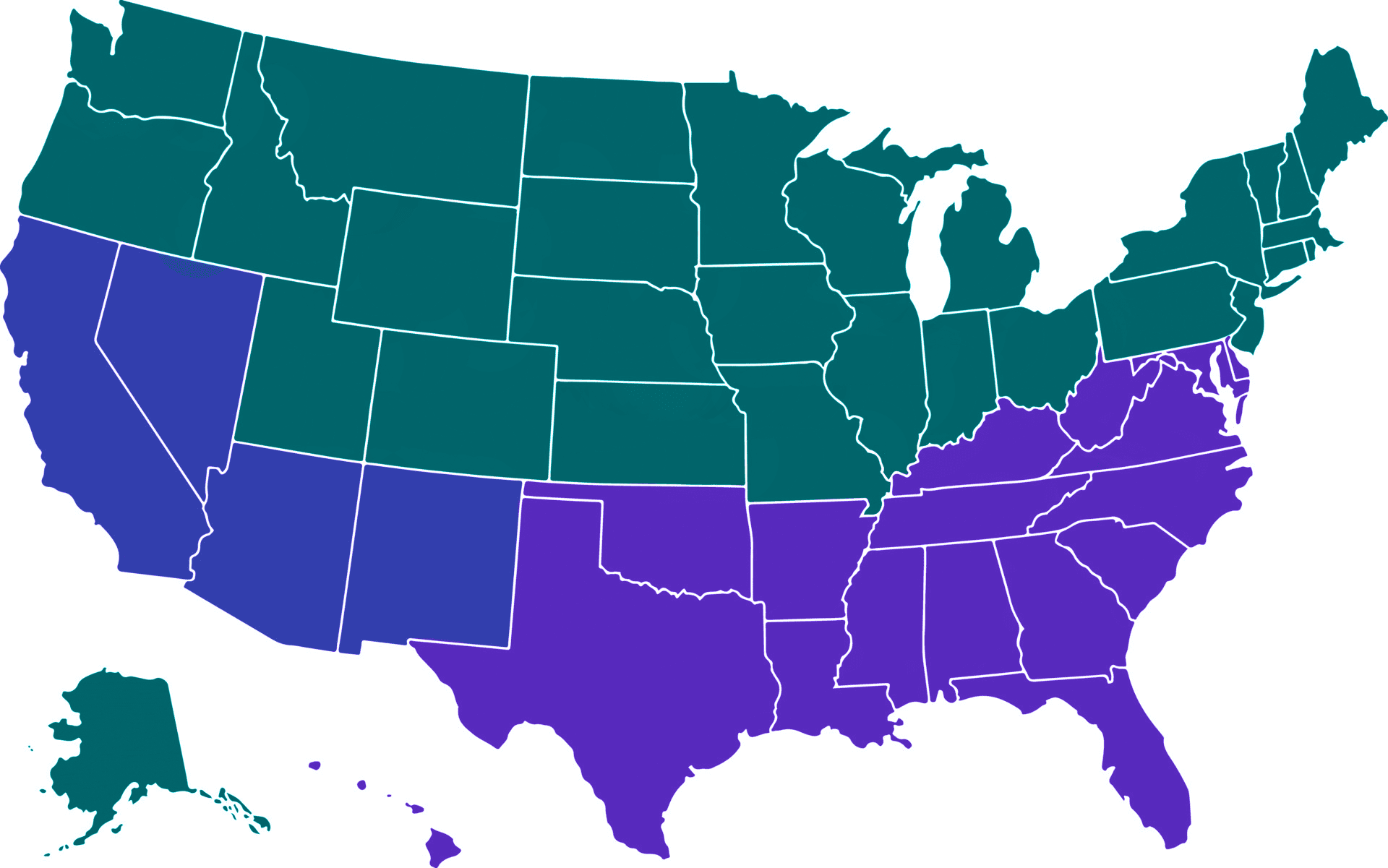 Each region has three ratings you must pay attention to when acquiring equipment. The previous requirement was 15, but this has changed with the SEER2 coming into effect.
The new SEER regulations update the previous heat pump and AC systems efficiency standards to encompass enhanced test accuracy and HVAC technology advancements. The differentiating factor between SEER and SEER2 is the respective rating systems' testing conditions.
The previous testing conditions didn't account for the impact of compromised ductwork, which often increases energy consumption and static pressures. Seemingly, the external test pressure wasn't sufficient to match real-life applications.
SEER2 brings a new testing process called M1, which raises the lab's static pressure. The change more accurately represents actual conditions and results in more accurate efficiency ratings.
An individual might think the differences are sheer tweaks, but they lead to varying data values, warranting a new, more accurate rating system. With the new test protocol, cooling equipment now exhibits 5% lower SEER2 ratings.
What are the SEER2 Southeastern Region Regulations?
Transitioning from the original SEER to SEER2 has complicated inventory management as homeowners strive to ensure their current inventories align with efficiency standards. With the 2023 ratings, compliance is based on installing an outdoor unit that works during specific times or when it's hot outside.
The Charleston, SC area falls into the Southeastern Region category, and homeowners here must heed to geo-specific SEER2 standards consisting of:
• Household central air systems must have a SEER2 value of less than 14.3 BTUs
• Residential 45000, central AC systems must exhibit a SEER2 ratings of over 13.8 (14.5 SEER)
• Heat pumps must read at least 14.3
As of January 1, 2023, systems that don't heed these standards risk marketing or installation and replacement limitations.
What does SEER2 Mean for Homeowners?
These new standards are relevant to heat pumps and AC units produced after December 31, 2022. Products manufactured before this date aren't covered, but homeowners and HVAC contractors planning new system installations must comply with the latest ratings.
It's essential to be aware of the differences between regions. While compliance in the Southeastern states depends on the installation date, Northern states have different regulations that determine compliance based on manufacturing date.
Therefore, homeowners in the Northern states have more leeway as they can still refer to the older standards, provided the unit's manufacturing date is earlier than January 1, 2023. This creates opportunities for the sell-through of "legacy" inventory.
The Cost and Benefits to Homeowners
While the DOE-enacted transition may seem like an inventory inconvenience, the overall result is positive. The different classes fall below the cooling and heating equipment's average lifespan, estimated to be on average 15 years for heat pumps and 21 years for cooling systems.
Fortunately, HVAC system manufacturers continue to improve their equipment efficiency standards and this positive trend is expected to intensify. Thanks to advanced technology, particularly in smart home technology, AC systems and other HVAC equipment will increase their efficiency throughout the industry.
Stay Ahead of SEER Changes
Understanding the new SEER2 regulations and comparing equipment like heat pumps, AC units, condensers, ductless mini-split units, packaged units, and more – isn't as cut and dry. Thus, working with a reputable Charleston heating and AC professional can be the best home improvement decision you can ever make. Fortunately, you don't have to search anymore.
Since opening our doors in 1972, our local family-owned and operated AC company has performed thousands of HVAC-related tasks in Charleston and the surrounding areas. Thousands of home and business owners throughout the region has benefited from us providing "Comfort for Life."
Our highly trained team focuses on heating, ventilation, and air conditioning (HVAC) and plumbing, and each team member prioritizes your comfort and complete satisfaction. Thus, you can expect high-quality installations, service, and maintenance in line with new SEER2 regulations.
If you live, work, or play in the Charleston area and you need to upgrade your HVAC systems to boost your home or business's comfort and save you money, contact us online or call us today at (843) 556-9550. We offer free estimates and free second opinions on replacement systems.