Commercial HVAC Services in Charleston, SC
When it comes to commercial heating and cooling services, trust your climate control to one of the most experienced providers in Charleston, SC. Smoak's Comfort Control has served businesses in the Charleston area with superior, affordable heating and cooling services since 1972.
​
Let our professional team of climate control experts take your commercial heating and air conditioning to the next level of efficiency and affordability.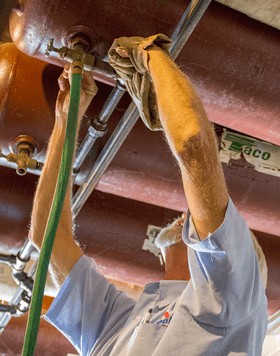 You Deserve Superior Professional Commercial Services
There are indeed numerous HVAC companies in the area, but few can match our experience and the long list of satisfied customers Smoak's has served over the years. Whether your business is in the middle of a complete HVAC meltdown or it seems like its energy bills keep creeping upwards, our team of professionals is here to help. Our heating and cooling experts team will come in and get things running smoothly for you as quickly as possible.
We understand you have a lot on your plate, and the last thing you want to worry about is your property's heating and cooling issues. With Smoak's, you can depend on us for high-quality products, services, and customer experiences. From HVAC installation to maintenance and repairs, you can count on us to handle everything for you with 100% expertise and professionalism.
What Can You Expect from Smoak's Commercial Services?
Smoak's Comfort Control is your all-in-one service provider, offering a complete list of commercial HVAC services, so you don't have to deal with the hassle of multiple companies or contractors.
Achieve the ultimate in convenience, comfort, energy efficiency, and affordability with commercial services from Smoak's Comfort Control, including:
Let Smoak's Comfort Control make your work life a little easier. From the first call for an appointment through the friendly service calls to your business, our commercial customers experience the professional difference that sets Smoak's apart from the competition.
Contact us online or via phone at 843-556-9550 to personally experience this commercial service to meet your heating and cooling needs.