Expert Preventative Maintenance for Charleston, SC Businesses
Life as a business owner is busy, and we understand you have a lot on your plate. The saying goes, "out of sight, out of mind," until your furnace goes out or your business's restroom floods. Wouldn't it be better to take care of any minor repairs while they are still minor so you can avoid these emergency repair situations altogether?
Smoak's Comfort Control is proud to feature our Comfort Control Plan especially designed to meet commercial needs for optimal HVAC performance year round. HVAC preventative maintenance for your business will not only keep your systems running smoothly, but will also help you cut down on repair costs and help eliminate the need for premature HVAC installations.
Investing in a preventative maintenance plan for your business now will help prevent the worst from happening and your business productivity suffering because of it.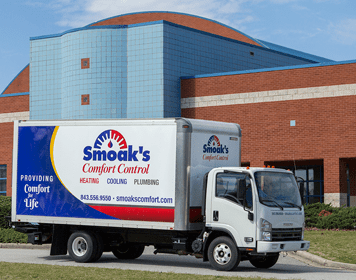 The Smoak's Comfort Control Plan is the Right Choice for Your Business
Preventative maintenance for your business's climate control means that our expert technicians will regularly inspect your systems to catch any minor issues before they become costly, inconvenient disasters. With a Comfort Control Plan, you can preschedule check-ups during the most convenient times for your business.
Our commercial customers who have enjoyed the benefits of the Comfort Control Plan have experienced a longer life expectancy for their HVAC systems with fewer repairs, headaches, and hassles. We make it easy for you to stay on top of maintenance and repairs for your business with this full-service preventative maintenance plan.
You'll enjoy the following benefits as a commercial Comfort Control Plan member:
15% discount on heating, air conditioning, and plumbing repairs
Priority attention for emergency services and repairs
Inflation protection
Lifetime repair warranty
Fewer breakdowns
Extend system lifespan
Enhanced comfort
Increased system efficiency
Increased indoor air quality
Keep your employees comfortable, safe, and healthy
Peace of mind
Contact Smoak's today at 843-556-9550 to learn more about our commercial Comfort Control Plan designed to maximize the climate control for your business.