Charleston, SC Dehumidifier Services
Do you need a dehumidifier in your Charleston home or business? For many individuals, a dehumidifier is a device that can help improve the indoor air quality in your home and your health.
It's essential to maintain the proper levels of humidity in your home. Your home can feel very uncomfortable without the appropriate amount of humidity. Too much humidity (50%) can cause damage to your home and your health. It can ruin the walls of a house as well as cause mold. Indoor mold can cause health problems.
You can remedy these issues with a dehumidifier. Dehumidifiers allow you to control the amount of humidity in your home. These can prevent mold and structural damage. We are a Charleston HVAC contractor that offers dehumidifier services and installations.
What is Dehumidification?
Dehumidification is the removal of moisture from the air. There is a saying, "It's not the heat, it's the humidity." The high humidity levels can make things feel even hotter than they are. Many air conditioning systems provide some level of dehumidification, but in extremely "muggy" climates like Charleston, you often need a separate dehumidifier.
What Does a Dehumidifier Do?
A dehumidifier is a machine that removes excess moisture from the air. Dehumidifiers are beneficial machines because they can contribute to your health. They can help prevent things such as:
Growth of mold and microbes
Allergens from mold
Respiratory infections
Buckled floors and walls
Pests due to humidity
What are the Benefits of a Dehumidifier?
The primary benefit of a dehumidifier is that it makes your home feel cooler and more comfortable. Meaning you don't have to turn up the AC as high.
However, dehumidifiers also have some health benefits. These are:
A reduction in allergy symptoms. By drying out the air, dehumidifiers reduce the presence of common allergy triggers such as mold and pet dander.
They reduce dust mites throughout your property. Dust mites are a common allergen and need a relative humidity level of 65 percent to survive and reproduce. Keeping your relative humidity below that manages dehumidifiers.
Reduction in asthma symptoms by making the air lighter and easier to breathe
Reduction of pests such as cockroaches
Be aware that you should do it sparingly. Turning up a dehumidifier too high can affect your skin and hair, worsen cold symptoms, and make it harder to stay hydrated. However, running a dehumidifier in a climate like Charleston has several benefits that outweigh potential issues. You should particularly consider a dehumidifier if you have asthma, problems with mold and mildew, or if your mirrors and windows show condensation.
When is a Dehumidifier Needed?
When there is too much humidity in the home, several problems can arise. These can include discomfort, moisture on surfaces like walls, and mold appearing in the house.
Here are some signs that your home or business would reap the benefits of dehumidifier installation:
When there is too much humidity in the home, several problems can arise. These can include discomfort, moisture on surfaces like walls, and mold appearing in the house. Here are some signs that your home or business would reap the benefits of dehumidifier installation:
You may notice excess moisture on the ceiling or walls
There is visible mold growing
Your house doesn't have good ventilation
Rooms with humidity, like bathrooms, do not have windows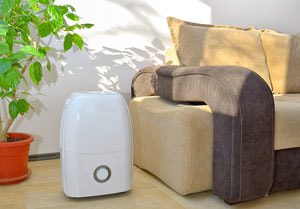 When Should You Run Your Dehumidifier?
Dehumidifiers should run from late spring through early fall. This may be different from the time during which you run your AC. There may be days when you need the dehumidifier, but it's not hot enough for full-blown air conditioning. AC systems lower the humidity, but only when the temperature is high. Typically, this is when dehumidifiers shine.
Dehumidifier Repair, Installation & Maintenance
Dehumidifier Repair
If you have issues with your dehumidifier, especially in the middle of summer, the air quality in your home can rapidly worsen. We provide solutions to problems caused by excess humidity and moisture. We offer dehumidifier services such as repair, maintenance, replacement, and installation. Our professional technicians are available seven days a week, 365 days a year, to help you when you need it. Don't hesitate to contact us to schedule reliable dehumidifier repair services.
We will get a technician to your property as soon as possible. To schedule your repair, call our service department at (843) 556-9550 or contact us online.
Some signs that your dehumidifier needs servicing include the following:
Your humidifier is claiming the water reservoir is full when it's not.
Your dehumidifier is no longer running as you expect.
You see a leak of water or fluid around the dehumidifier
Your dehumidifier is constantly running with both exhaust and intake fans at full.
Your dehumidifier is repeatedly turning itself off.
Your dehumidifier is malfunctioning or seems to freeze up.
Your dehumidifier is not making water or not making it at the rate you expected.
Your dehumidifier is making strange loud noises
Bad/strange smells are a sign that your unit has dirty parts that need replacing
Any of these likely indicate an issue with your system that requires attention.
Dehumidifier Installation & Replacement
If you have decided you want to install a dehumidifier, we can give you all the advice you need to choose the right system. You may, for example, find you need a dehumidifier only in parts of the house, such as a bedroom with an en-suite bathroom. For this, you are best off with a portable dehumidifier that can be stowed away in the winter. Or need an efficient way to cover your entire house. If you need to cover multiple rooms, it may be better to install a whole-house dehumidifier. This uses your existing duct system to remove moisture from your entire house. We can help you work out the best place to put your humidistat. We will help you choose the proper system without upselling you with things you do not need.
If your dehumidifier has stopped working, we can install a replacement and advise you on the best action. We will also remove your non-functional or outdated dehumidifier for you.
We recommend replacing an outdated portable dehumidifier with a newer, more efficient one. Suppose your dehumidifier is three or more years old (or you just moved in, inherited it from the previous owner, and don't know how old it is) and requires a significant repair. In that case, it may be the most cost-effective to replace it in the case of portable units. Whole-house dehumidifiers are a different thing. Proper maintenance can extend the life of a dehumidifier and will reduce the risk of expensive repairs on whole-house systems.
Dehumidifier Maintenance
Like AC units, dehumidifiers have filters. These should be replaced at a minimum once a year. Typically, at the start of dehumidifier season. We recommend cleaning portable dehumidifiers every few weeks. Doing so prevents the dehumidifier from becoming a haven for mold and mildew. The water from the dehumidifier can be used to water house plants or for irrigation. (Water from whole house dehumidifiers is routed into the drain through a condensate pump).
These systems allow a professional to change the filters and clean their ducts. You can change your dehumidifier filters when your AC filters are changed.
At Smoak's Comfort Control, we install whole-house dehumidifier systems and sell portable dehumidifiers. For many people in Charleston, SC, a whole-house system is necessary. We can install and maintain the system and your other HVAC systems professionally and efficiently. Contact us today to learn more about how we can help you with all your dehumidifier needs.
Excess moisture is a bad thing in any home or business. It can affect the integrity of your property and harm the health of everyone inside. We offer dehumidifier services to homeowners and business owners in Charleston, SC, and the surrounding areas. If your existing dehumidifier is malfunctioning or you feel that high humidity levels are an issue, it may be time to contact our professional team.