Water Heater Repair in Charleston, SC
Your water heater provides on-demand hot water to your home. Daily tasks such as bathing, cooking, and cleaning are often inconvenient and unproductive when your water heater malfunctions. Our experts at Smoak's Comfort Control are here to help you restore your water heater functions quickly, accurately, and safely. We believe that your home should never have to go without hot water for long.
Are you searching for reliable water heater repair near Charleston, SC? Smoak's Comfort Control has trusted plumbers in Charleston. When you require water heater services, we'll efficiently handle your water heater repair, installation and replacement.
Call us today to book your appointment at (843) 556-9550 or request service by completing our easy service request form.
Water Heater Repair Services
It's important to seek water heater repair services immediately when you notice system faults. Doing so will keep your system running safely and efficiently and protect your water heater from needing to undergo costly repairs or replacements in the future. Our water heater repair services include water heater inspections, traditional water heater repair, and water heater maintenance.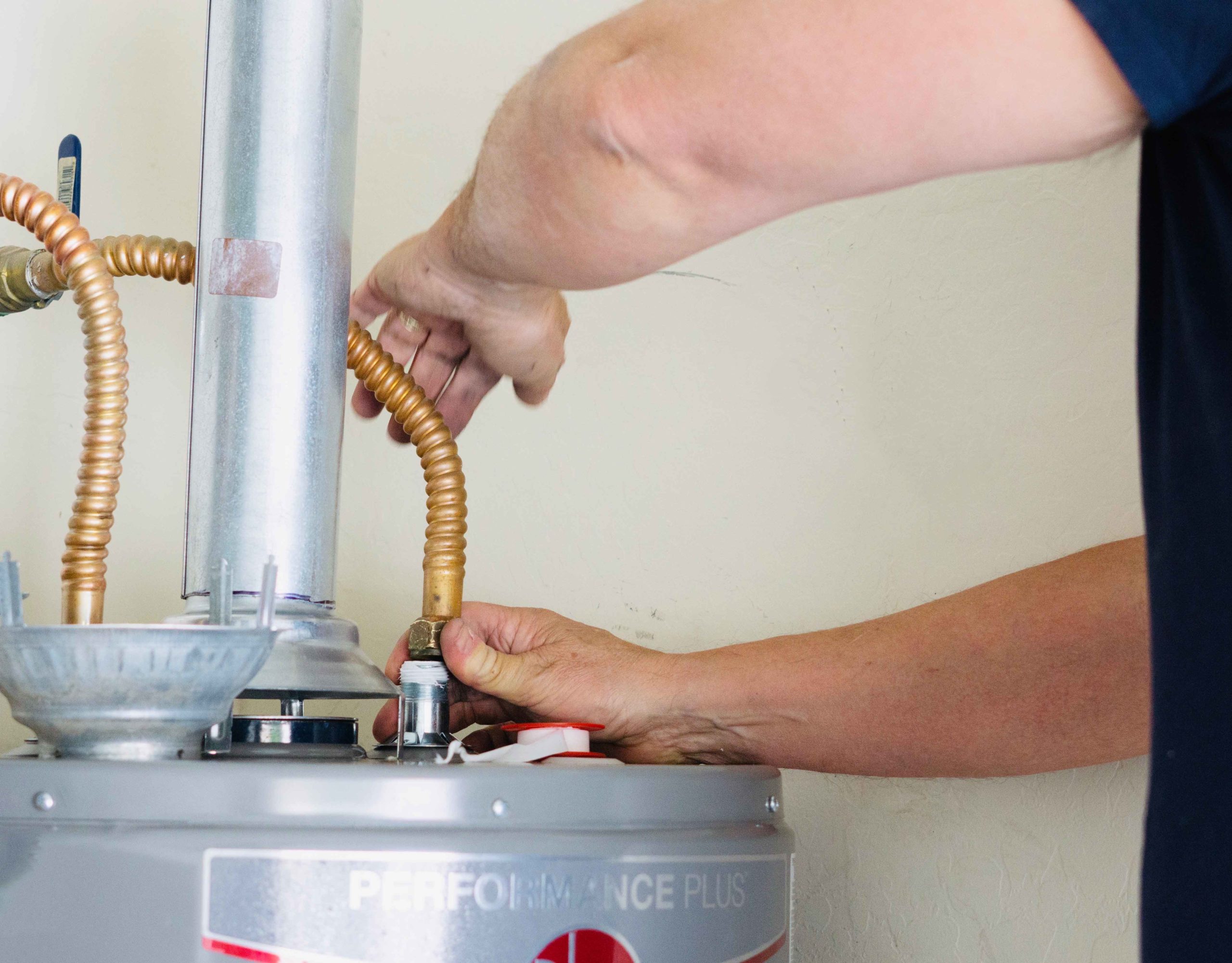 We typically begin our water heater repair services near Charleston by conducting a water heater inspection. During this consultation period, our plumbers can monitor your system's performance, inspect your unit for leaks or inefficiencies, and pinpoint the source of any water heating or pressure concerns. Once we locate the issue with your water heater issue, we can suggest repair services and discuss timelines and potential costs.
After your water heater experiences any external damage, water heater inspections are especially vital. While some water heater models have a protective case for exterior components, others are left vulnerable to the elements. Whether a bad storm or foul ball damages your outdoor unit, our inspection services can assess your repairs and find a workable solution.
Traditional Water Heater Repair
If you are experiencing a lack of hot water, low water pressure, or weak plumbing connections, it is likely time for water heater repair. A traditional tank water heater and a tankless model are different because conventional water heaters hold their standby hot water supply. In contrast, tankless models deliver hot water as needed. Our water heater repair services handle traditional models with tank and tankless units.
Leaks in your water heater can cause flooding and damage flooring inside your home. Some traditional water heater repair services require immediate attention. We will ensure that your water heater is installed correctly, sealed, and maintains its functions over time. We'll let you know when a replacement is necessary before you find out in an emergency situation.
Tankless water heater repair services don't typically deal with flooding concerns. After all, with a tankless model, you don't have the issue of potential stored water leaking into your home. However, tankless water heaters come with their list of repair requirements. While they're more environmentally friendly and cheaper to run, they don't come without occasional issues.
One of the most vital parts of your tankless water heater is its electrical source. If your unit loses its electrical connection, your hot water goes with it. Our tankless water heater repair services ensure all loose connections are tightened, and your hot water functions are restored.
Water heater maintenance involves draining sediment out of the water, tightening loose valves, and checking your pilot light. Conducting water heater maintenance at least once a year keeps your system running at its peak performance. This takes your traditional tank-model water heater from lasting around five years to closer to 15 years. Regarding tankless models, maintenance can improve unit lifespan from 10 to 25 years!
Trust Smoak's Comfort Control for Your Water Heater Repair
Smoak's Comfort Control has offered home renovation services for over 50 years. Our upgrades help homeowners improve their homes and businesses' heating, cooling, ventilation, and plumbing systems. Our projects are handled with professionalism, friendly service, precision, and tidy workstations. When you need reliable water heater repair near Charleston, SC, Smoak's Comfort Control is the multi-faceted plumbing company you can trust.
As a family-owned and operated company, our family values are strong. We've maintained most of our staff for over 20 years, keeping them part of our family. For our customers, this means treating you with the same care and respect we would issue to our family members.
Are you searching for reliable water heater repair near Charleston, SC? Smoak's Comfort Control is the trusted plumbing company in Charleston. When you require water heater repair services, we'll handle your installation or repair service efficiently.
Please call us today to book your appointment at (843) 556-9550 or contact us online.