Ductless Mini-Split AC System Services
Ductless Mini-Split AC Services
Ductless mini-split air conditioning systems are fantastic options for homes and businesses. Over the last several years, ductless mini splits have been a more popular option.
Do you have a renovated room in your home? Is there limited space where there's no space to run ductwork? Are you looking to install heating and air conditioning without removing walls? Ductless mini-split AC systems are perfect for this.
You can choose multi- or single-zone mini-splits. The difference between the two depends on how many rooms or areas you would like to have heating or air conditioning.
Multi-split systems do not need a wall thermostat and use separate wiring. You can control the temperature on the mini-split itself with remote control.
But what if you like having a thermostat attached to the wall? We can install a ductless mini-split AC system with a thermostat hookup if you worry about losing your mini-split remote control. Ductless mini-splits have attractive head units that install on your wall.
Do you have any energy bill concerns, or would you like to reduce the energy used each month? Ductless mini-split AC systems only use one electrical circuit, which reduces energy costs. Traditional air conditioning use two energy sources, one inside and one outside. Having that second energy source adds one more thing to your list of home maintenance tasks.
Ductless Mini-Split Repair
There are a couple of things to keep an eye out for that will notify you that your mini-split system needs repairs or replacement. Here are the main ductless mini split repair warning signs:
A foul smell, like burning plastic, is a significant safety concern. There could be an electrical issue at hand.
If your AC system is making unfamiliar noises, this signifies that a more significant problem is not far away.
Do you spot a leak? It could be condensation, but it could also be your coolant leaking.
If your mini-split system cools but does not heat, this is a separate issue related to the reversing valve.
Did you set the temperature to 71, but the air blowing out of your system feels like 80 degrees? Clogs and blockages cause improper air temperatures.
If your mini-split system is not blowing air at all or does blow air, but your energy bill has increased, you might have a problem. Note that if your energy bill changes with the winter or summer season, that's typical in some places and has no cause for alarm.
It can be challenging to distinguish between some of the above examples by yourself. What should you do if any of the above happens in your home or you are unsure?
The best thing to do is to call and schedule an appointment with our HVAC professionals. And don't wait! One of the abovementioned issues can be repaired and prevent a domino effect. Waiting to fix one problem can cause significant harm and more expenses to your system.
We offer complete ductless mini-split AC system repair services and would be happy to help you diagnose your issue.
Ductless Mini-Split Installation & Replacement
Are you interested in a ductless mini-split installation?
Maybe you have an outdated mini-split AC system or need an entirely different heating and cooling system altogether. Or your current system is malfunctioning and needs a total overhaul.
Ductless mini-split AC systems are great because they offer an easy and affordable way to get heating and cooling to specific rooms or areas.
Do you "run hot" while someone else in your home "runs cold"?
Mini splits offer the unique feature of controlling the individual temperature of each room or area of a home. So, you and your family can stay comfortable all day.
We offer free no-obligation consultations to properly size and review new mini-split systems. We will install your new system and offer annual preventative maintenance packages. For mini-split replacements, we will remove your old system.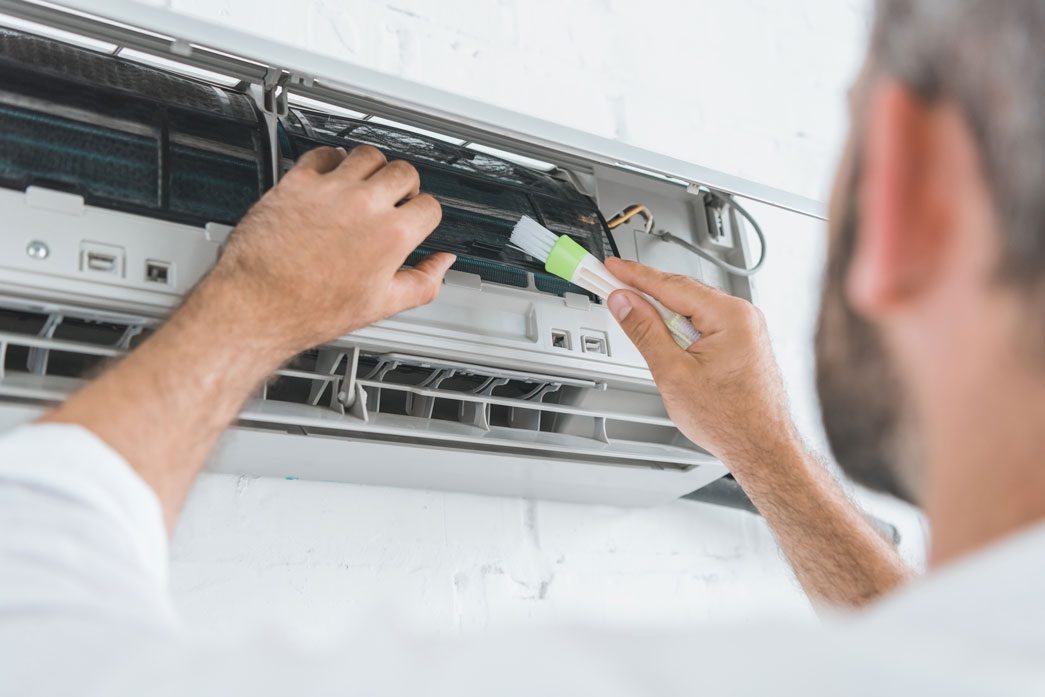 Ductless Mini-Split Maintenance
When it comes to maintenance on a ductless mini-split AC system, you might wonder if it's necessary.
Maintenance can seem like a waste of resources because you aren't solving an immediate and definable issue. It can be the deciding factor that keeps you away from cold winter or blazing hot summer. Keeping up with regular maintenance will solve big, expensive problems before they happen.
Luckily, our team of ductless mini-split AC system professionals can help.
Sign up for our maintenance program to ensure your ductless mini-split system is in good working condition when you need it. We recommend having two annual maintenance visits—one before the warm season and once before the cooling season, such as in August and March.
Have some additional questions? Please don't hesitate to give our team a call today at (843) 556-9550 or reach out to us online!